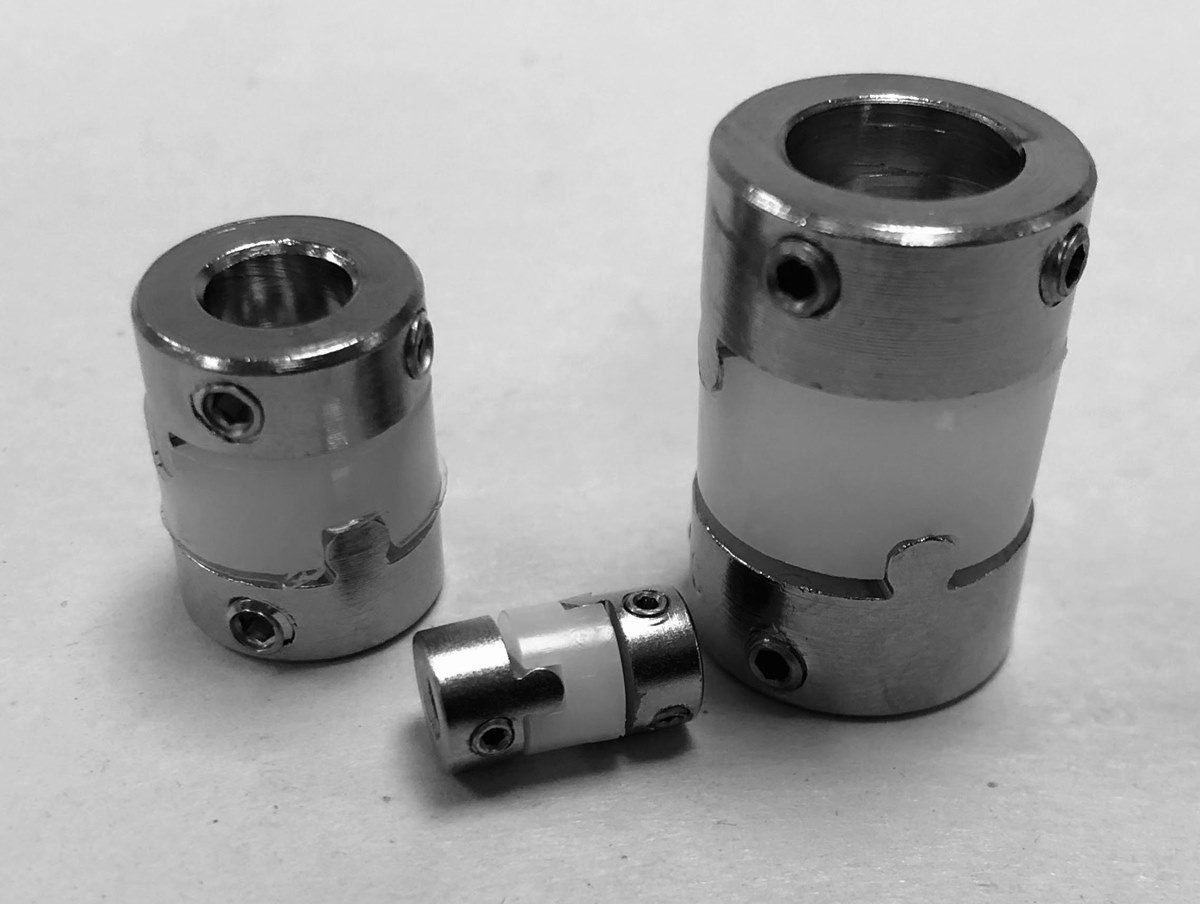 Basic design
Inherent in the Oldham design is a unique characteristic-uniform velocity, regard­less of shaft misalignment. In their original form, Oldham type couplings had backlash, needed lubrication, and accepted little angular misalignment. Renbrandt is the originator of improvements which greatly enhance their performance.
The Nylon centerpiece virtually eliminates backlash, noise, and the need for lubrication. The cylindrical cross pins permit greater angular misalignment (up to 5º).
Features
Uniform Velocity
Greater Misalignment (5º)
No Radial Load
Easy Separation
Zero Backlash
Light Weight/Low Inertia
Moderate Torque
6000 Volt Insulation
Small Size
Torsional Rigidity
Low Cost
Materials and Finishes
Hubs – – Brass, nickel plated.
Centerpieces Nylon (Others such as Polycarbonate on request)
Set Screws – Stainless Steel, cup point, hex socket (STD) or slotted available. Orientation of set-screws with respect to crosspins maintaned.
Set Screw Sizes:
Up to .125 Bore -Two 4-40 @120°.
to .3125 Bore -Two 6-32 @ 90°.
to .375 Bore -Two 4-40@ 90°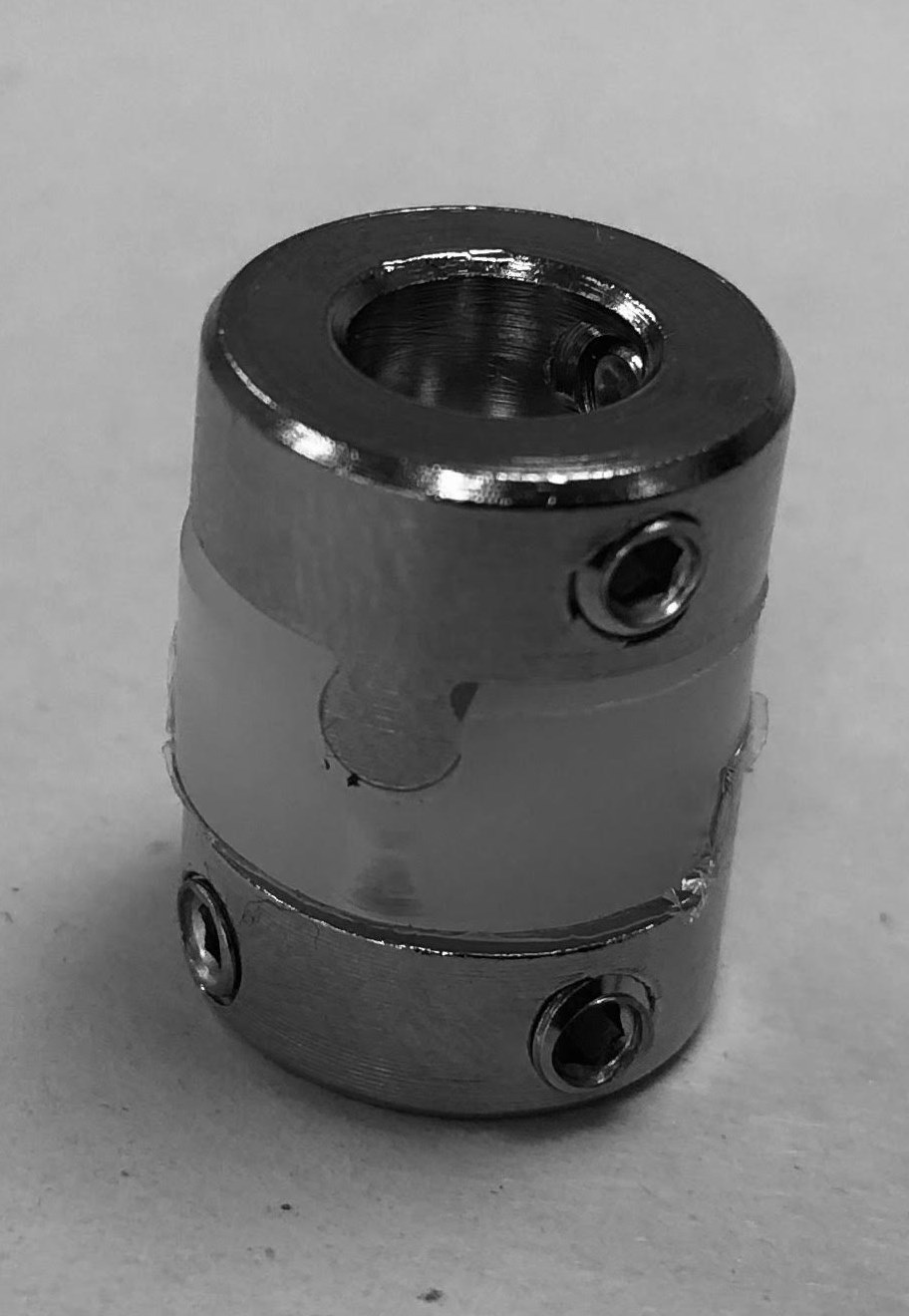 Size 1
| Current Product No. | Bore Diameters +0.002 -0.000 |
| --- | --- |
| M201-33 | 0.125 X 0.125 |
| M201-00 | 0.938 X 0.938 |
| M201-03 | 0.938 X 0.125 |
| M201-22 | 0.120 X 0.125 |
| M201-23 | 0.120 X 0.125 |
| M201-02 | 0.120 X 0.938 |
Size 2
| Current Product No. | Bore Diameters +0.002 -0.000 |
| --- | --- |
| T301-22 | 0.120 X 0.120 |
| T301-23 | 0.120 X 0.125 |
| T301-24 | 0.120 X 0.1875 |
| T301-25 | 0.120 X 0.250 |
| T301-26 | 0.120 X 0.3125 |
| T301-27 | 0.120 X 0.375 |
| T301-33 | 0.125 X 0.125 |
| T301-34 | 0.125 X 0.1875 |
| T301-35 | 0.125 X 0.250 |
| T301-36 | 0.125 X 0.3125 |
| T301-37 | 0.125 X 0.375 |
| T301-44 | 0.1875 X 0.1875 |
| T301-45 | 0.1875 X 0.250 |
| T301-46 | 0.1875 X 0.3125 |
| T301-47 | 0.1875 X 0.375 |
| T301-55 | 0.250 X 0.250 |
| T301-56 | 0.250 X 0.3125 |
| T301-57 | 0.250 X 0.375 |
| T301-66 | 0.3125 X 0.3125 |
| T301-67 | 0.3125 X 0.375 |
| T301-77 | 0.375 X 0.375 |
Size 3
| Current Product No. | Bore Diameters +0.002 -0.000 |
| --- | --- |
| M501-66 | 0.3125 X 0.3125 |
| M501-67 | 0.3125 X 0.375 |
| M501-77 | 0.375 X 0.375 |
| M501-78 | 0.375 X 0.4375 |
| M501-88 | 0.4375 X 0.4375 |
Set Screw Style
| Size | Dia. | Max. Bore | Length | Weight (oz) | Misalignment Angle | Misalignment Offset | Max Torque | Max RPM | Max Temp. |
| --- | --- | --- | --- | --- | --- | --- | --- | --- | --- |
| 1 | 1/4″ | .125″ | 7/16″ | 0.055 | 3 | 1/32″ | 20″ oz. | 2500 | 175° F |
| 2 | 1/2″ | .375″ | 21/32″ | 0.25 | 5 | 1/16″ | 80″ oz. | 2500 | 175° F |
| 3 | 5/8″ | .4375″ | 31/32″ | 0.70 | 5 | 1/16″ | 100″ oz. | 2500 | 175° F |
Request Information