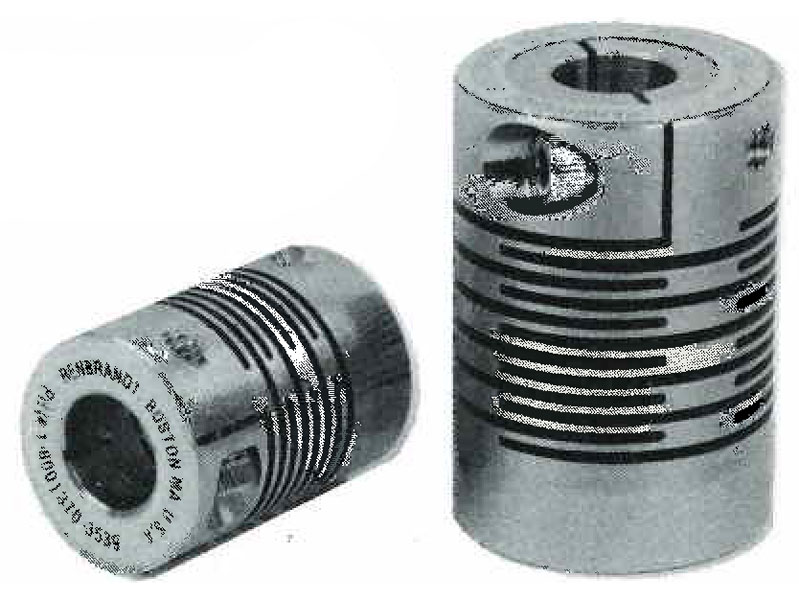 These couplings use the same principle as our FLFIXIMITE™ flexible disc couplings we've been making since 1951, but made of one piece of aluminum for lower cost. They deliver performance far superior to slotted beam couplings. Low Wind-Up (without high bearing loads), low inertia, zero backlash, uniform velocity – superior values to give you superior motion control performance .
Now Available in a Full Range of Standard Sizes – 3/8 Inch to 2 1/2 Inch Diameter.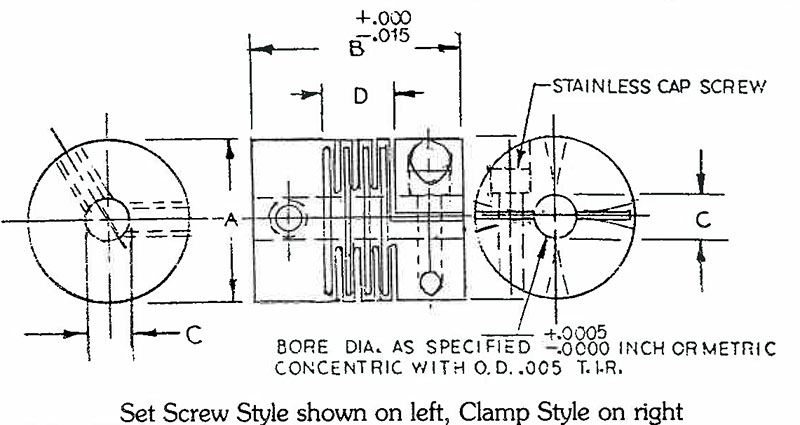 Specifications
| | |
| --- | --- |
| Overall Diameter (A) | See Sizes |
| C Maximum for Clamp Style | 0.093 Inch |
| C Maximum for Set Screw Style | 0.187 Inch |
| Minimum Space Between Shafts (D)1 | 0.266 inches |
| Misalignment (M) | 3 º 0.003 Inch |
| Maximum Torque (T) | 4 in·lb |
| Weight (W) | 0.09 oz |
| Torsional Compliance (TC) | 16.3 min/in.oz. |
| Standard Material | 7075T6 Aluminum |
| Special Options | Insulating Bore Liner Stainless Steel |
| Std Lgth (B) – Set Screw Style | 0.63 Inch |
| Flex Lgth (B) – Set Screw Style | 0.27 Inch |
1 Coupling may be undercut inside flex area for no extra charge
Why Our Couplings are Better
The function of every flexible coupling is to transmit power or motion control from one rotating shaft to another that is not perfectly aligned, without excessive bearing loads.
But since the requirements for transmitting power are not the same as they are for controlling motion, couplings designed to transmit power might well be unsuitable for motion control and vice versa.
For instance, a resilient coupling made with rubber or springs would work well delivering power because it could absorb vibration and/or shock loads, but would not work well controlling motion. Here's why: In a motion control system, every component in the drive train (including couplings) affects the accuracy of the system by the amount of compliance (Wind-Up), Inertia, Friction, Backlash, etc. – things quite unimportant when transmitting power. A coupling that absorbs vibration must by definition, have Wind-Up, Inertia, or Backlash; whereas a true-motion control coupling must have no Backlash, low Inertia, and very low Wind-Up.
There are many applications, which are extremely sensitive to these factors. Today's encoders, for instance, can discriminate down to a few seconds of arc. (That's the width of a dime seen from 2 miles away) So you see how couplings can affect the success of your design.
Torsional Wind-Up is a very important factor. Notice in the graphs how outstanding RENBRANDT Couplings are.
Other manufacturers offer similar misalignment accommodation and low compliance – BUT NOT IN THE SAME PRODUCT.
The system must also be free from imbalance, vibration, and oscillation in order to prevent hunting – especially in closed-loop systems where a null balance is established between error signals. Since 1951 RENBRANDT has been building and improving Servo Couplings that provide reliability and long life free from maintenance – at moderate cost.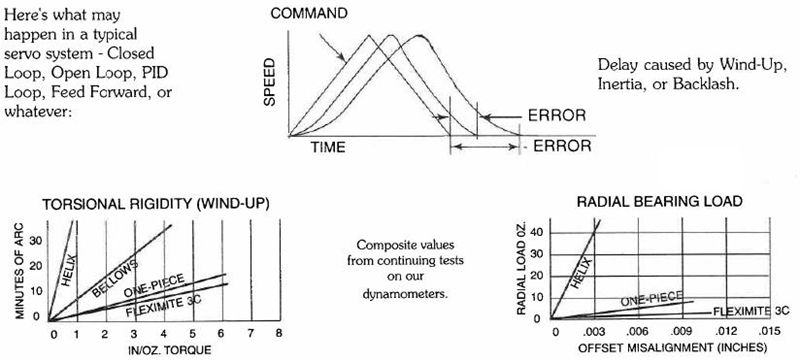 Sizes/Part Numbers
| Item # | Overall Diameter (A) | C Maximum for Clamp Style | C Maximum for Set Screw Style | Std Length (B) | Flex Length (D) |
| --- | --- | --- | --- | --- | --- |
| R03 | 0.38 Inch | 0.093 Inch | 0.187 Inch | 0.63 Inch | 0.27 Inch |
| R03A | 0.38 Inch | 0.093 Inch | 0.187 Inch | 0.56 Inch | 0.27 Inch |
| R05 | 0.50 Inch | 0.156 Inch | 0.313 Inch | 0.75 Inch | 0.38 Inch |
| R05A | 0.50 Inch | 0.156 Inch | 0.313 Inch | 0.90 Inch | 0.38 Inch |
| R07 | 0.75 Inch | 0.375 Inch | 0.500 Inch | 1.00 Inch | 0.38 Inch |
| R07A | 0.75 Inch | 0.375 Inch | 0.500 Inch | 0.75 Inch | 0.38 Inch |
| R07C | 0.75 Inch | 0.375 Inch | 0.500 Inch | 1.25 Inch | 0.65 Inch |
| R07HT | 0.75 Inch | 0.375 Inch | 0.500 Inch | 1.00 Inch | 0.38 Inch |
| R10 | 1.00 Inch | 0.500 Inch | 0.625 Inch | 1.40 Inch | 0.73 Inch |
| R10A | 1.00 Inch | 0.500 Inch | 0.625 Inch | 1.13 Inch | 0.44 Inch |
| R10B | 1.00 Inch | 0.625 Inch | 0.500 Inch | 2.00 Inch | 0.73 Inch |
| R10E | 1.00 Inch | 0.500 Inch | 0.625 Inch | 1.00 Inch | 0.40 Inch |
| R10EHT | 1.00 Inch | 0.500 Inch | 0.625 Inch | 1.00 Inch | 0.36 Inch |
| R10HT | 1.00 Inch | 0.500 Inch | 0.625 Inch | 1.40 Inch | 0.70 Inch |
| R12 | 1.25 Inch | 0.625 Inch | 0.875 Inch | 1.25 Inch | 0.63 Inch |
| R12A | 1.25 Inch | 0.625 Inch | 0.875 Inch | 1.75 Inch | 1.09 Inch |
| R12B | 1.25 Inch | 0.625 Inch | 0.875 Inch | 2.00 Inch | 1.09 Inch |
| R12HT | 1.25 Inch | 0.625 Inch | 0.875 Inch | 1.25 Inch | 0.55 Inch |
| R15 | 1.50 Inch | 0.875 Inch | 1.125 Inch | 2.00 Inch | 1.18 Inch |
| R15A | 1.50 Inch | 0.875 Inch | 1.125 Inch | 2.38 Inch | 1.18 Inch |
| R15B | 1.50 Inch | 0.875 Inch | 1.125 Inch | 2.63 Inch | 1.18 Inch |
| R17 | 1.75 Inch | 1.000 Inch | 1.375 Inch | 2.00 Inch | 1.08 Inch |
| R17A | 1.75 Inch | 1.000 Inch | 1.375 Inch | 2.50 Inch | 1.08 Inch |
| R17B | 1.75 Inch | 1.000 Inch | 1.375 Inch | 3.00 Inch | 1.08 Inch |
| R20 | 2.00 Inch | 1.125 Inch | 1.500 Inch | 2.00 Inch | 1.10 Inch |
| R20A | 2.00 Inch | 1.125 Inch | 1.500 Inch | 2.50 Inch | 1.10 Inch |
| R20B | 2.00 Inch | 1.125 Inch | 1.500 Inch | 3.00 Inch | 1.10 Inch |
| R20C | 2.00 Inch | 1.125 Inch | 1.500 Inch | 3.40 Inch | 1.10 Inch |
| R20T | 2.00 Inch | 1.125 Inch | 1.500 Inch | 1.65 Inch | 0.75 Inch |
| R25 | 2.50 Inch | 1.500 Inch | 2.000 Inch | 2.16 Inch | 0.85 Inch |
| R25A | 2.50 Inch | 1.500 Inch | 2.000 Inch | 2.63 Inch | 1.09 Inch |
| R25B | 2.50 Inch | 1.500 Inch | 2.000 Inch | 2.50 Inch | 1.42 Inch |
| R25C | 2.50 Inch | 1.500 Inch | 2.000 Inch | 3.00 Inch | 1.42 Inch |
| R25D | 2.50 Inch | 1.500 Inch | 2.000 Inch | 3.50 Inch | 1.42 Inch |
| R25G | 2.50 Inch | 1.500 Inch | 2.000 Inch | 3.50 Inch | 2.16 Inch |
Request Information