NOW AVAILABLE IN A FULL RANGE OF STANDARD SIZES -3/8″ TO 2 1/2″ DIAMETER
Some couplings are too stiff radially; they resist misalignment and thus overload bearings. Low Wind-Up and low Radial Loads are almost mutually exclusive, and always a compromise. The best compromise is found in flexible disc couplings -where rotational position is transmitted by means of tension in the discs. Whereas in a helical cut beam coupling the transmitting element is a cantilevered beam which cannot begin to have equivalent rigidity -and still provide radial flexibility. The graphs on page 2, show clearly how much less wind-up there is in Renbrandt Couplings yet without excessive bearing load.
We also make special couplings to order, .where existing parameters require them.
How to order
Select clamp or set screw hub styles and bore sizes to fit your shafts from table on left (No charge for special bore sizes -inch or metric), then call us at 1-800-370-FLEX for application advice.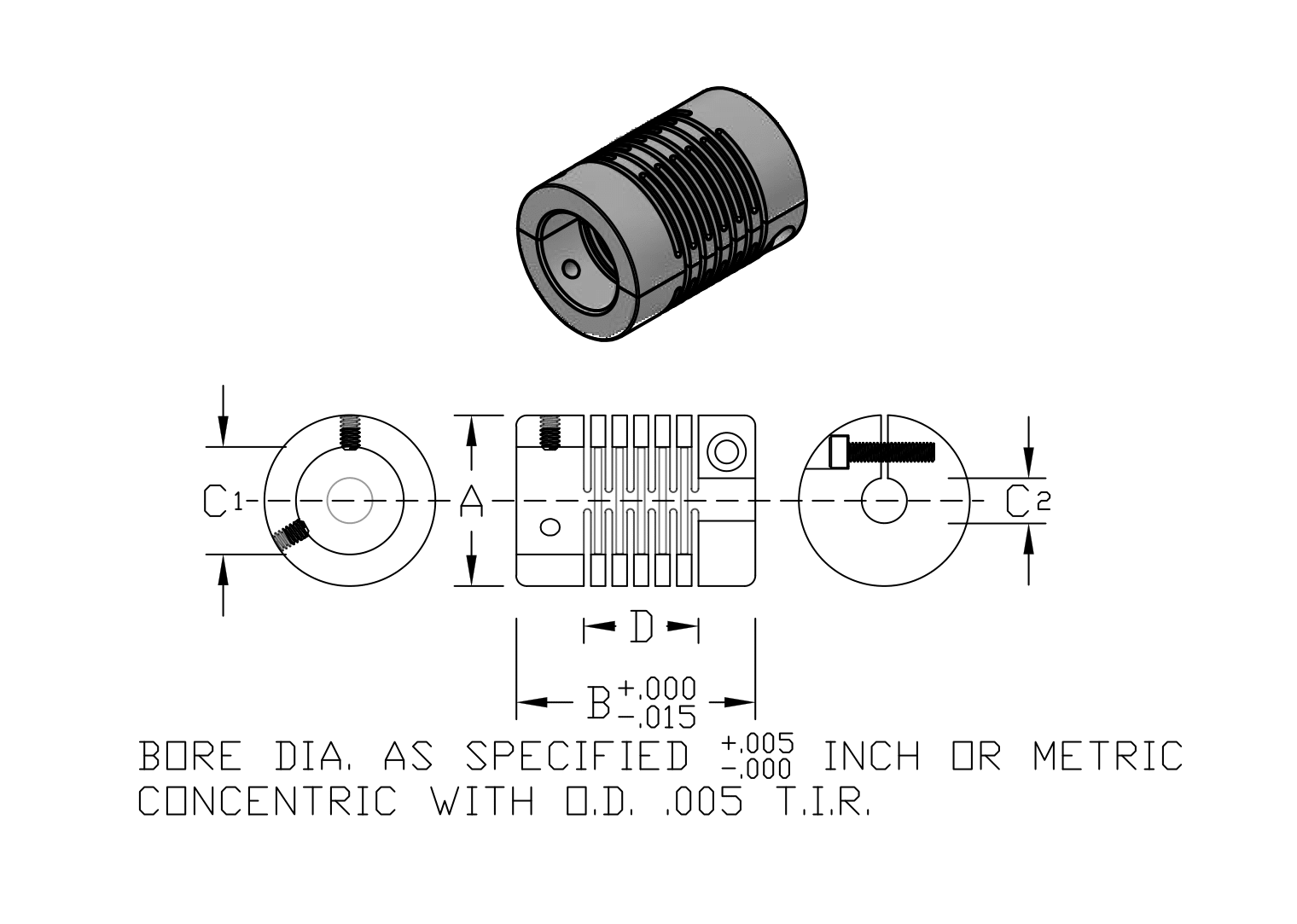 Set Screw Style shown on left, Clamp Style on right
MTL -7075T6 Aluminum. Stainless on special order.
D -Min. space between shafts. (Couplings may be undercut inside flex area for small extra charge.)
M -Misalignment, Deg. or in.
T -Max. Torque, in. lbs.
W -Weight, oz
TC -Torsional Compliance, Min./ in. lb.
Sizes/Part Numbers
| MODEL # | A | B | CMAX Clamp | CMAX Set Screw | D | M | T | W | TC |
| --- | --- | --- | --- | --- | --- | --- | --- | --- | --- |
| R03 | 3/8 | 625 | 3/32 | 3/16 | 266 | .003 | 4 | .09 | 16.3 |
| R05 | 1/2 | .750 | 5/32 | 5/16 | .375 | .003 | 9 | .125 | 16.3 |
| R07 | 3/4 | 1 | 3/8 | 3/8 | .38 | .003 | 15 | 0.5 | 5.04 |
| R10 | 1 | 1.4 | .500 | 5/8 | .70 | .003 | 40 | 1.25 | 2.02 |
| R12 | 1 1/4 | 1 1/4 | 5/8 | 7/8 | .6.25 | .003 | 65 | 1.76 | .645 |
| R15 | 1 1/2 | 2 | 7/8 | 1 1/8 | 1.18 | .003 | 95 | 3.05 | .788 |
| R17 | 1 3/4 | 2 | 1.00 | 1 3/8 | 1.06 | .003 | 130 | 4.61 | .387 |
| R20 | 2 | 2 | 1 1/8 | 1 1/2 | 1.1 | .003 | 190 | 5.45 | .258 |
| R25 | 2 1/2 | 2 1/2 | 1 1/2 | 2 | 1.43 | .003 | 240 | 10.03 | .344 |
Request Information