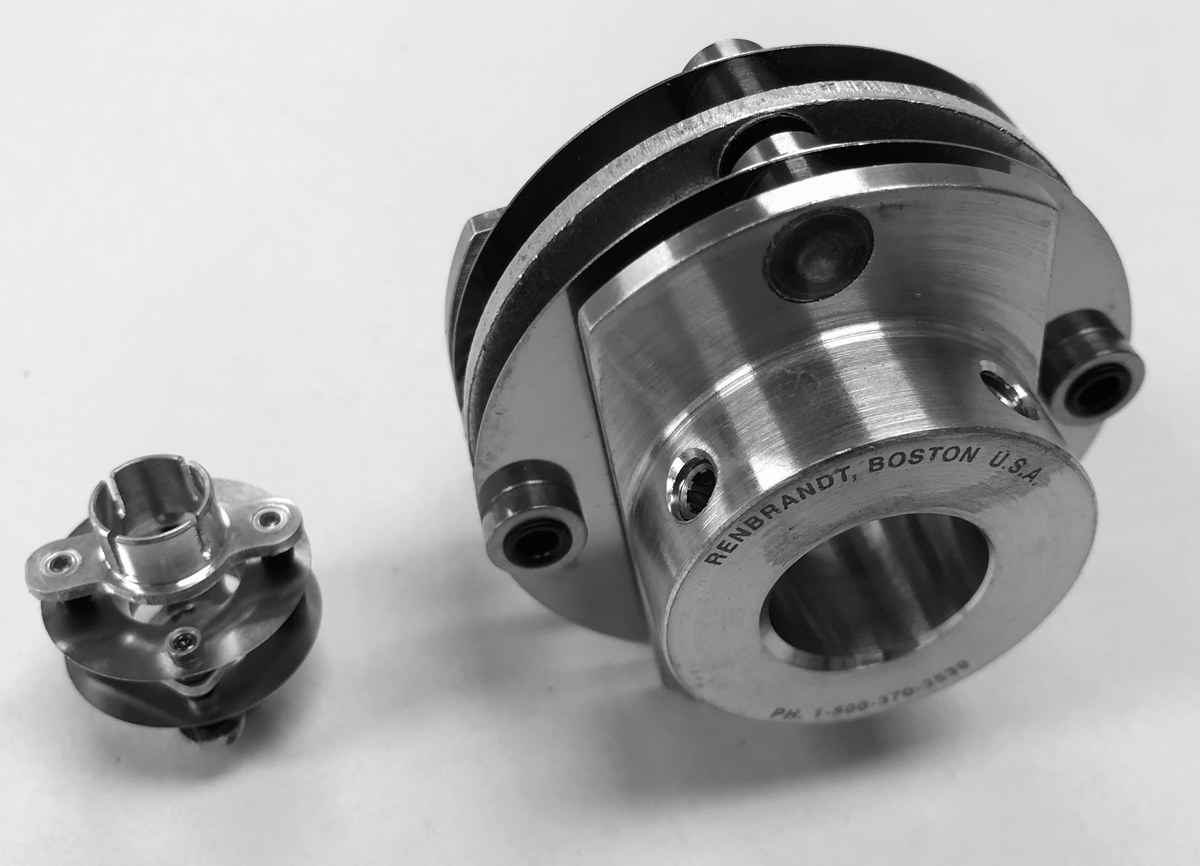 Types and sizes of FLEXIMITE couplings
FLEXIMITE Couplings are available in four types as shown below. The types are based on their intended use. Each type is available in any of four sizes to fit your applications. You may also select various Assembly Options where space is a problem or greater flexibility is desired.
Coupling Types
| | |
| --- | --- |
| Style A | For bridging long spans. When used individually it will not accommodate parallel misalignment, and is therefore recommended for use in pairs only, or at either end of an intermediate, unsupported shaft. Parallel misalignment accommodation depends upon the length of the intermediate shaft. (Shown with clamp style hubs.) |
| Style B | Discs with hubs aligned parallel to each other. Slightly shorter than Type C, slightly superior linearity of motion transmitted in the majority of applications. |
| Style C | Discs with hubs mounted at 90° with respect to each other. Outstanding for general applications. High torsional rigidity with relatively low radial bearing loads. Slightly longer than Type B. |
| Style E | For use where lowest radial bearing loads and/or greater misalignment accommodation are indicated, and where torsional rigidity is not a major consideration. Minimum length (equal to Type B with reverse hubs) is achieved by mounting hubs inboard. Increased separation of flexible discs permits somewhat greater parallel misalignment. |
Design Notes
A designer may choose hubs in either the set screw or clamp style. A set screw style coupling is held in place by tightening the mounted setscrews. The clamp style hub is slotted and is fitted with a clamp thatmust be ordered seperately Also available are keyways or one set screw with a sub-drilled hole for a taper pin.
Steel rivets are available for greater strength. Insulating Drive Plates are available
from stock. Longer length couplings can be achieved by stacking components. (Not recommended for high speed applications.)
Ordering Options
HUBS – Aluminum, lriditect· or Brass, Zinc Plated. DISCS-Stainless Steel, Passivated.
SET SCREWS – Stainless, headless, cup point, Bristol 6 spline or hex socket. Appropriate wrenches supplied with each order.
RECTANGULAR CLAMPS – Steel, Zinc Plated.
ROUND CLAMPS – Aluminum, lridited.
Request Information