OUTER DIAMETER 1 1/2 Inch (38.1 mm)
BORE .120 Inch to 5/8 Inch (3.048 mm to 15.875 mm)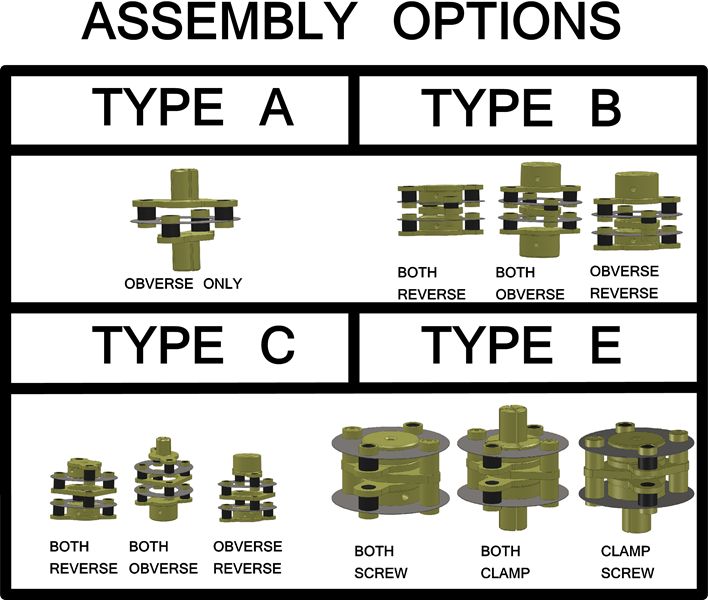 Assembly Style Options
| | | |
| --- | --- | --- |
| Type A | For bridging long spans. When used individually it will not accommodate parallel misalignment, and is therefore recommended for use in pairs only, or at either end of an intermediate, unsupported shaft. Parallel misalignment accommodation depends upon length of intermediate shaft. (Shown with clamp style hubs) | |
| Type B | Discs with hubs aligned parallel to each other. Slightly shorter than Type C, slightly superior linearity of motion transmitted in majority of applications. | |
| Type C | Discs with hubs mounted at 90º with respect to each other. Outstanding for general applications. High torsional rigidity with relatively low radial bearing loads. Slightly longer than Type B. | |
| Type E | For use where lowest radial bearing loads and/or greater misalignment accommodation are indicated, and where torsional rigidity is not a major consideration. Minimum length (equal to Type B with reverse hubs) is achieved by mounting hubs inboard. Increased separation of flexible discs permits somewhat greater parallel misalignment. | |
Specifications
| | |
| --- | --- |
| Size | 3 |
| Overall Diameter | See Sizes |
| Hub 1 Diameter / Number | 0.185 Inch (53) |
| Recommended Clamp Number for Hub 1 [1] | A-101-13AR, Round Clamp |
| Hub 2 Diameter / Number | 0.185 Inch (53) |
| Recommended Clamp Number for Hub 2 [2] | A-101-13AR, Round Clamp |
| Torque | 250 in·oz |
| Maximum RPM [3] | 5000 rpm |
If a clamp style hub for hub 1 is selected, it is usually fitted with a clamp that must be ordered separately. Mark the checkbox in Special Options for "Include Shaft Collar Clamps."
If a clamp style hub for hub 2 is selected, it is usually fitted with a clamp that must be ordered separately. Mark the checkbox in Special Options for "Include Shaft Collar Clamps."
RPM data for reference only. Speed limitations depend on load, misalignment, size etc.
Misalignment
| | |
| --- | --- |
| Angle | 3 º |
| Parallel | 0.018 Inch |
| T.I.R. | 0.035 Inch |
Moment of Inertia
| | |
| --- | --- |
| Brass | 0.133 oz.in² |
| Aluminum | 0.044 oz.in² |
Weight
| | |
| --- | --- |
| Brass | 0.93 oz |
| Aluminum | 0.44 oz |
Torsional Deflection
| | |
| --- | --- |
| B | 0.212 min/in.oz. |
| C | 0.17 min/in.oz. |
| E | 0.39 min/in.oz. |
Radial Loads
| | |
| --- | --- |
| B | 4.9 oz./0.001 in. misalign |
| C | 1.8 oz./0.001 in. misalign |
| E | 0.2 oz./0.001 in. misalign |
Uniform Cyclic Velocity
Many couplings do not transmit accurate angular position when misaligned – even under no load, and thus introduce errors as shown. (Note how little error is introduced by Fleximite compared to others.)
Why Our Couplings are Better
The function of every flexible coupling is to transmit power or motion control from one rotating shaft to another that is not perfectly aligned, without excessive bearing loads.
But since the requirements for transmitting power are not the same as they are for controlling motion, couplings designed to transmit power might well be unsuitable for motion control and vice versa.
For instance, a resilient coupling made with rubber or springs would work well delivering power because it could absorb vibration and/or shock loads, but would not work well controlling motion. Here's why: In a motion control system, every component in the drive train (including couplings) affects the accuracy of the system by the amount of compliance (Wind-Up), Inertia, Friction, Backlash, etc. – things quite unimportant when transmitting power. A coupling that absorbs vibration must by definition, have Wind-Up, Inertia, or Backlash; whereas a true-motion control coupling must have no Backlash, low Inertia, and very low Wind-Up.
There are many applications, which are extremely sensitive to these factors. Today's encoders, for instance, can discriminate down to a few seconds of arc. (That's the width of a dime seen from 2 miles away) So you see how couplings can affect the success of your design.
Torsional Wind-Up is a very important factor. Notice in the graphs how outstanding RENBRANDT Couplings are.
Other manufacturers offer similar misalignment accommodation and low compliance – BUT NOT IN THE SAME PRODUCT.
The system must also be free from imbalance, vibration, and oscillation in order to prevent hunting – especially in closed-loop systems where a null balance is established between error signals. Since 1951 RENBRANDT has been building and improving Servo Couplings that provide reliability and long life free from maintenance – at moderate cost.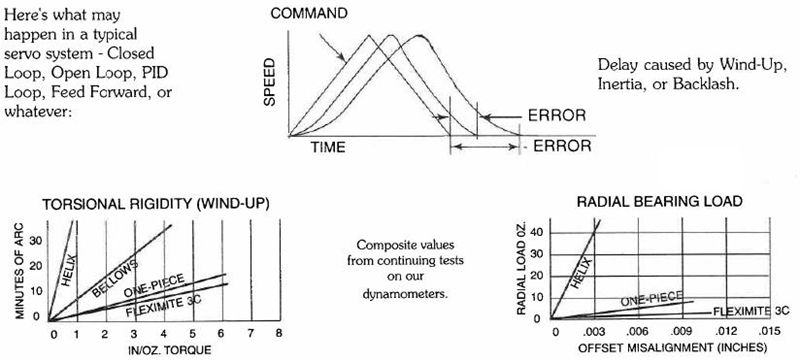 High Torque Series
Especially designed for applications subject to higher torque, rapid reversal, or extra high shock loads. Same precision, same durability as you've come to expect in our regular FLEXIMITE™ Couplings.
As in most things, an optimum design is a compromise – one best suited to the particular application. Recognizing that there are some servo designs that would be best suited with couplings capable of handling higher torque, we have developed and tested the HIGH TORQUE Series to meet that demand.
The only compromise is that of increased radial stiffness. We do not specify a maximum allowable misalignment because it is determined by the amount of radial load the particular design will accommodate, considering speed, torque, and life.
NOTE: HIGH TORQUE SERIES AVAILABLE ONLY IN TYPES A & C, SIZES 1, 2, & 3 CLAMP & SET SCREW STYLES.
Static Torque is conservatively rated at one-half Breaking Torque and is recommended as Maximum Working Torque for continuous duty. It may be exceeded only for momentary or starting loads, or with improved shaft alignment. Improper use of set screws on round shafts may reduce torque capacity. If in doubt, specify hubs with keyways or sub-drilled holes for pinning.
Sizes/Part Numbers
Item #
Overall Diameter
Hub 1 Diameter / Number
Hub 2 Diameter / Number
Y53X53X
1 1/2 Inch
38.1 mm
0.185 Inch (53)
0.185 Inch (53)
Y54X53X
1 1/2 Inch
38.1 mm
0.2407 Inch (54)
0.185 Inch (53)
Y54X54X
1 1/2 Inch
38.1 mm
0.2407 Inch (54)
0.2407 Inch (54)
Y55X53X
1 1/2 Inch
38.1 mm
0.25 Inch (55)
0.185 Inch (53)
Y55X54X
1 1/2 Inch
38.1 mm
0.25 Inch (55)
0.2407 Inch (54)
Y55X55X
1 1/2 Inch
38.1 mm
0.25 Inch (55)
0.25 Inch (55)
Y56X53X
1 1/2 Inch
38.1 mm
0.2656 Inch (56)
0.185 Inch (53)
Y56X54X
1 1/2 Inch
38.1 mm
0.2656 Inch (56)
0.2407 Inch (54)
Y56X55X
1 1/2 Inch
38.1 mm
0.2656 Inch (56)
0.25 Inch (55)
Y56X56X
1 1/2 Inch
38.1 mm
0.2656 Inch (56)
0.2656 Inch (56)
Y57X53X
1 1/2 Inch
38.1 mm
0.2812 Inch (57)
0.185 Inch (53)
Y57X54X
1 1/2 Inch
38.1 mm
0.2812 Inch (57)
0.2407 Inch (54)
Y57X55X
1 1/2 Inch
38.1 mm
0.2812 Inch (57)
0.25 Inch (55)
Y57X56X
1 1/2 Inch
38.1 mm
0.2812 Inch (57)
0.2656 Inch (56)
Y57X57X
1 1/2 Inch
38.1 mm
0.2812 Inch (57)
0.2812 Inch (57)
Y59X53X
1 1/2 Inch
38.1 mm
0.2968 Inch (59)
0.185 Inch (53)
Y59X54X
1 1/2 Inch
38.1 mm
0.2968 Inch (59)
0.2407 Inch (54)
Y59X55X
1 1/2 Inch
38.1 mm
0.2968 Inch (59)
0.25 Inch (55)
Y59X56X
1 1/2 Inch
38.1 mm
0.2968 Inch (59)
0.2656 Inch (56)
Y59X57X
1 1/2 Inch
38.1 mm
0.2968 Inch (59)
0.2812 Inch (57)
Y59X59X
1 1/2 Inch
38.1 mm
0.2968 Inch (59)
0.2968 Inch (59)
Y61X53X
1 1/2 Inch
38.1 mm
0.3125 Inch (61)
0.185 Inch (53)
Y61X54X
1 1/2 Inch
38.1 mm
0.3125 Inch (61)
0.2407 Inch (54)
Y61X55X
1 1/2 Inch
38.1 mm
0.3125 Inch (61)
0.25 Inch (55)
Y61X56X
1 1/2 Inch
38.1 mm
0.3125 Inch (61)
0.2656 Inch (56)
Y61X57X
1 1/2 Inch
38.1 mm
0.3125 Inch (61)
0.2812 Inch (57)
Y61X59X
1 1/2 Inch
38.1 mm
0.3125 Inch (61)
0.2968 Inch (59)
Y61X61X
1 1/2 Inch
38.1 mm
0.3125 Inch (61)
0.3125 Inch (61)
Y62X53X
1 1/2 Inch
38.1 mm
0.3281 Inch (62)
0.185 Inch (53)
Y62X54X
1 1/2 Inch
38.1 mm
0.3281 Inch (62)
0.2407 Inch (54)
Y62X55X
1 1/2 Inch
38.1 mm
0.3281 Inch (62)
0.25 Inch (55)
Y62X56X
1 1/2 Inch
38.1 mm
0.3281 Inch (62)
0.2656 Inch (56)
Y62X57X
1 1/2 Inch
38.1 mm
0.3281 Inch (62)
0.2812 Inch (57)
Y62X59X
1 1/2 Inch
38.1 mm
0.3281 Inch (62)
0.2968 Inch (59)
Y62X61X
1 1/2 Inch
38.1 mm
0.3281 Inch (62)
0.3125 Inch (61)
Y62X62X
1 1/2 Inch
38.1 mm
0.3281 Inch (62)
0.3281 Inch (62)
Y64X53X
1 1/2 Inch
38.1 mm
0.3437 Inch (64)
0.185 Inch (53)
Y64X54X
1 1/2 Inch
38.1 mm
0.3437 Inch (64)
0.2407 Inch (54)
Y64X55X
1 1/2 Inch
38.1 mm
0.3437 Inch (64)
0.25 Inch (55)
Y64X56X
1 1/2 Inch
38.1 mm
0.3437 Inch (64)
0.2656 Inch (56)
Y64X57X
1 1/2 Inch
38.1 mm
0.3437 Inch (64)
0.2812 Inch (57)
Y64X59X
1 1/2 Inch
38.1 mm
0.3437 Inch (64)
0.2968 Inch (59)
Y64X61X
1 1/2 Inch
38.1 mm
0.3437 Inch (64)
0.3125 Inch (61)
Y64X62X
1 1/2 Inch
38.1 mm
0.3437 Inch (64)
0.3281 Inch (62)
Y64X64X
1 1/2 Inch
38.1 mm
0.3437 Inch (64)
0.3437 Inch (64)
Y65X53X
1 1/2 Inch
38.1 mm
0.3593 Inch (65)
0.185 Inch (53)
Y65X54X
1 1/2 Inch
38.1 mm
0.3593 Inch (65)
0.2407 Inch (54)
Y65X55X
1 1/2 Inch
38.1 mm
0.3593 Inch (65)
0.25 Inch (55)
Y65X56X
1 1/2 Inch
38.1 mm
0.3593 Inch (65)
0.2656 Inch (56)
Y65X57X
1 1/2 Inch
38.1 mm
0.3593 Inch (65)
0.2812 Inch (57)
Y65X59X
1 1/2 Inch
38.1 mm
0.3593 Inch (65)
0.2968 Inch (59)
Y65X61X
1 1/2 Inch
38.1 mm
0.3593 Inch (65)
0.3125 Inch (61)
Y65X62X
1 1/2 Inch
38.1 mm
0.3593 Inch (65)
0.3281 Inch (62)
Y65X64X
1 1/2 Inch
38.1 mm
0.3593 Inch (65)
0.3437 Inch (64)
Y65X65X
1 1/2 Inch
38.1 mm
0.3593 Inch (65)
0.3593 Inch (65)
Y67X53X
1 1/2 Inch
38.1 mm
0.375 Inch (67)
0.185 Inch (53)
Y67X54X
1 1/2 Inch
38.1 mm
0.375 Inch (67)
0.2407 Inch (54)
Y67X55X
1 1/2 Inch
38.1 mm
0.375 Inch (67)
0.25 Inch (55)
Y67X56X
1 1/2 Inch
38.1 mm
0.375 Inch (67)
0.2656 Inch (56)
Y67X57X
1 1/2 Inch
38.1 mm
0.375 Inch (67)
0.2812 Inch (57)
Y67X59X
1 1/2 Inch
38.1 mm
0.375 Inch (67)
0.2968 Inch (59)
Y67X61X
1 1/2 Inch
38.1 mm
0.375 Inch (67)
0.3125 Inch (61)
Y67X62X
1 1/2 Inch
38.1 mm
0.375 Inch (67)
0.3281 Inch (62)
Y67X64X
1 1/2 Inch
38.1 mm
0.375 Inch (67)
0.3437 Inch (64)
Y67X65X
1 1/2 Inch
38.1 mm
0.375 Inch (67)
0.3593 Inch (65)
Y67X67X
1 1/2 Inch
38.1 mm
0.375 Inch (67)
0.375 Inch (67)
Y69X53X
1 1/2 Inch
38.1 mm
0.3906 Inch (69)
0.185 Inch (53)
Y69X54X
1 1/2 Inch
38.1 mm
0.3906 Inch (69)
0.2407 Inch (54)
Y69X55X
1 1/2 Inch
38.1 mm
0.3906 Inch (69)
0.25 Inch (55)
Y69X56X
1 1/2 Inch
38.1 mm
0.3906 Inch (69)
0.2656 Inch (56)
Y69X57X
1 1/2 Inch
38.1 mm
0.3906 Inch (69)
0.2812 Inch (57)
Y69X59X
1 1/2 Inch
38.1 mm
0.3906 Inch (69)
0.2968 Inch (59)
Y69X61X
1 1/2 Inch
38.1 mm
0.3906 Inch (69)
0.3125 Inch (61)
Y69X62X
1 1/2 Inch
38.1 mm
0.3906 Inch (69)
0.3281 Inch (62)
Y69X64X
1 1/2 Inch
38.1 mm
0.3906 Inch (69)
0.3437 Inch (64)
Y69X65X
1 1/2 Inch
38.1 mm
0.3906 Inch (69)
0.3593 Inch (65)
Y69X67X
1 1/2 Inch
38.1 mm
0.3906 Inch (69)
0.375 Inch (67)
Y69X69X
1 1/2 Inch
38.1 mm
0.3906 Inch (69)
0.3906 Inch (69)
Y70X53X
1 1/2 Inch
38.1 mm
0.4062 Inch (70)
0.185 Inch (53)
Y70X54X
1 1/2 Inch
38.1 mm
0.4062 Inch (70)
0.2407 Inch (54)
Y70X55X
1 1/2 Inch
38.1 mm
0.4062 Inch (70)
0.25 Inch (55)
Y70X56X
1 1/2 Inch
38.1 mm
0.4062 Inch (70)
0.2656 Inch (56)
Y70X57X
1 1/2 Inch
38.1 mm
0.4062 Inch (70)
0.2812 Inch (57)
Y70X59X
1 1/2 Inch
38.1 mm
0.4062 Inch (70)
0.2968 Inch (59)
Y70X61X
1 1/2 Inch
38.1 mm
0.4062 Inch (70)
0.3125 Inch (61)
Y70X62X
1 1/2 Inch
38.1 mm
0.4062 Inch (70)
0.3281 Inch (62)
Y70X64X
1 1/2 Inch
38.1 mm
0.4062 Inch (70)
0.3437 Inch (64)
Y70X65X
1 1/2 Inch
38.1 mm
0.4062 Inch (70)
0.3593 Inch (65)
Y70X67X
1 1/2 Inch
38.1 mm
0.4062 Inch (70)
0.375 Inch (67)
Y70X69X
1 1/2 Inch
38.1 mm
0.4062 Inch (70)
0.3906 Inch (69)
Y70X70X
1 1/2 Inch
38.1 mm
0.4062 Inch (70)
0.4062 Inch (70)
Y72X53X
1 1/2 Inch
38.1 mm
0.4218 Inch (72)
0.185 Inch (53)
Y72X54X
1 1/2 Inch
38.1 mm
0.4218 Inch (72)
0.2407 Inch (54)
Y72X55X
1 1/2 Inch
38.1 mm
0.4218 Inch (72)
0.25 Inch (55)
Y72X56X
1 1/2 Inch
38.1 mm
0.4218 Inch (72)
0.2656 Inch (56)
Y72X57X
1 1/2 Inch
38.1 mm
0.4218 Inch (72)
0.2812 Inch (57)
Y72X59X
1 1/2 Inch
38.1 mm
0.4218 Inch (72)
0.2968 Inch (59)
Y72X61X
1 1/2 Inch
38.1 mm
0.4218 Inch (72)
0.3125 Inch (61)
Y72X62X
1 1/2 Inch
38.1 mm
0.4218 Inch (72)
0.3281 Inch (62)
Y72X64X
1 1/2 Inch
38.1 mm
0.4218 Inch (72)
0.3437 Inch (64)
Y72X65X
1 1/2 Inch
38.1 mm
0.4218 Inch (72)
0.3593 Inch (65)
Y72X67X
1 1/2 Inch
38.1 mm
0.4218 Inch (72)
0.375 Inch (67)
Y72X69X
1 1/2 Inch
38.1 mm
0.4218 Inch (72)
0.3906 Inch (69)
Y72X70X
1 1/2 Inch
38.1 mm
0.4218 Inch (72)
0.4062 Inch (70)
Y72X72X
1 1/2 Inch
38.1 mm
0.4218 Inch (72)
0.4218 Inch (72)
Y73X53X
1 1/2 Inch
38.1 mm
0.4375 Inch (73)
0.185 Inch (53)
Y73X54X
1 1/2 Inch
38.1 mm
0.4375 Inch (73)
0.2407 Inch (54)
Y73X55X
1 1/2 Inch
38.1 mm
0.4375 Inch (73)
0.25 Inch (55)
Y73X56X
1 1/2 Inch
38.1 mm
0.4375 Inch (73)
0.2656 Inch (56)
Y73X57X
1 1/2 Inch
38.1 mm
0.4375 Inch (73)
0.2812 Inch (57)
Y73X59X
1 1/2 Inch
38.1 mm
0.4375 Inch (73)
0.2968 Inch (59)
Y73X61X
1 1/2 Inch
38.1 mm
0.4375 Inch (73)
0.3125 Inch (61)
Y73X62X
1 1/2 Inch
38.1 mm
0.4375 Inch (73)
0.3281 Inch (62)
Y73X64X
1 1/2 Inch
38.1 mm
0.4375 Inch (73)
0.3437 Inch (64)
Y73X65X
1 1/2 Inch
38.1 mm
0.4375 Inch (73)
0.3593 Inch (65)
Y73X67X
1 1/2 Inch
38.1 mm
0.4375 Inch (73)
0.375 Inch (67)
Y73X69X
1 1/2 Inch
38.1 mm
0.4375 Inch (73)
0.3906 Inch (69)
Y73X70X
1 1/2 Inch
38.1 mm
0.4375 Inch (73)
0.4062 Inch (70)
Y73X72X
1 1/2 Inch
38.1 mm
0.4375 Inch (73)
0.4218 Inch (72)
Y73X73X
1 1/2 Inch
38.1 mm
0.4375 Inch (73)
0.4375 Inch (73)
Y75X53X
1 1/2 Inch
38.1 mm
0.4531 Inch (75)
0.185 Inch (53)
Y75X54X
1 1/2 Inch
38.1 mm
0.4531 Inch (75)
0.2407 Inch (54)
Y75X55X
1 1/2 Inch
38.1 mm
0.4531 Inch (75)
0.25 Inch (55)
Y75X56X
1 1/2 Inch
38.1 mm
0.4531 Inch (75)
0.2656 Inch (56)
Y75X57X
1 1/2 Inch
38.1 mm
0.4531 Inch (75)
0.2812 Inch (57)
Y75X59X
1 1/2 Inch
38.1 mm
0.4531 Inch (75)
0.2968 Inch (59)
Y75X61X
1 1/2 Inch
38.1 mm
0.4531 Inch (75)
0.3125 Inch (61)
Y75X62X
1 1/2 Inch
38.1 mm
0.4531 Inch (75)
0.3281 Inch (62)
Y75X64X
1 1/2 Inch
38.1 mm
0.4531 Inch (75)
0.3437 Inch (64)
Y75X65X
1 1/2 Inch
38.1 mm
0.4531 Inch (75)
0.3593 Inch (65)
Y75X67X
1 1/2 Inch
38.1 mm
0.4531 Inch (75)
0.375 Inch (67)
Y75X69X
1 1/2 Inch
38.1 mm
0.4531 Inch (75)
0.3906 Inch (69)
Y75X70X
1 1/2 Inch
38.1 mm
0.4531 Inch (75)
0.4062 Inch (70)
Y75X72X
1 1/2 Inch
38.1 mm
0.4531 Inch (75)
0.4218 Inch (72)
Y75X73X
1 1/2 Inch
38.1 mm
0.4531 Inch (75)
0.4375 Inch (73)
Y75X75X
1 1/2 Inch
38.1 mm
0.4531 Inch (75)
0.4531 Inch (75)
Y76X53X
1 1/2 Inch
38.1 mm
0.4687 Inch (76)
0.185 Inch (53)
Y76X54X
1 1/2 Inch
38.1 mm
0.4687 Inch (76)
0.2407 Inch (54)
Y76X55X
1 1/2 Inch
38.1 mm
0.4687 Inch (76)
0.25 Inch (55)
Y76X56X
1 1/2 Inch
38.1 mm
0.4687 Inch (76)
0.2656 Inch (56)
Y76X57X
1 1/2 Inch
38.1 mm
0.4687 Inch (76)
0.2812 Inch (57)
Y76X59X
1 1/2 Inch
38.1 mm
0.4687 Inch (76)
0.2968 Inch (59)
Y76X61X
1 1/2 Inch
38.1 mm
0.4687 Inch (76)
0.3125 Inch (61)
Y76X62X
1 1/2 Inch
38.1 mm
0.4687 Inch (76)
0.3281 Inch (62)
Y76X64X
1 1/2 Inch
38.1 mm
0.4687 Inch (76)
0.3437 Inch (64)
Y76X65X
1 1/2 Inch
38.1 mm
0.4687 Inch (76)
0.3593 Inch (65)
Y76X67X
1 1/2 Inch
38.1 mm
0.4687 Inch (76)
0.375 Inch (67)
Y76X69X
1 1/2 Inch
38.1 mm
0.4687 Inch (76)
0.3906 Inch (69)
Y76X70X
1 1/2 Inch
38.1 mm
0.4687 Inch (76)
0.4062 Inch (70)
Y76X72X
1 1/2 Inch
38.1 mm
0.4687 Inch (76)
0.4218 Inch (72)
Y76X73X
1 1/2 Inch
38.1 mm
0.4687 Inch (76)
0.4375 Inch (73)
Y76X75X
1 1/2 Inch
38.1 mm
0.4687 Inch (76)
0.4531 Inch (75)
Y76X76X
1 1/2 Inch
38.1 mm
0.4687 Inch (76)
0.4687 Inch (76)
Y77X53X
1 1/2 Inch
38.1 mm
0.4843 Inch (77)
0.185 Inch (53)
Y77X54X
1 1/2 Inch
38.1 mm
0.4843 Inch (77)
0.2407 Inch (54)
Y77X55X
1 1/2 Inch
38.1 mm
0.4843 Inch (77)
0.25 Inch (55)
Y77X56X
1 1/2 Inch
38.1 mm
0.4843 Inch (77)
0.2656 Inch (56)
Y77X57X
1 1/2 Inch
38.1 mm
0.4843 Inch (77)
0.2812 Inch (57)
Y77X59X
1 1/2 Inch
38.1 mm
0.4843 Inch (77)
0.2968 Inch (59)
Y77X61X
1 1/2 Inch
38.1 mm
0.4843 Inch (77)
0.3125 Inch (61)
Y77X62X
1 1/2 Inch
38.1 mm
0.4843 Inch (77)
0.3281 Inch (62)
Y77X64X
1 1/2 Inch
38.1 mm
0.4843 Inch (77)
0.3437 Inch (64)
Y77X65X
1 1/2 Inch
38.1 mm
0.4843 Inch (77)
0.3593 Inch (65)
Y77X67X
1 1/2 Inch
38.1 mm
0.4843 Inch (77)
0.375 Inch (67)
Y77X69X
1 1/2 Inch
38.1 mm
0.4843 Inch (77)
0.3906 Inch (69)
Y77X70X
1 1/2 Inch
38.1 mm
0.4843 Inch (77)
0.4062 Inch (70)
Y77X72X
1 1/2 Inch
38.1 mm
0.4843 Inch (77)
0.4218 Inch (72)
Y77X73X
1 1/2 Inch
38.1 mm
0.4843 Inch (77)
0.4375 Inch (73)
Y77X75X
1 1/2 Inch
38.1 mm
0.4843 Inch (77)
0.4531 Inch (75)
Y77X76X
1 1/2 Inch
38.1 mm
0.4843 Inch (77)
0.4687 Inch (76)
Y77X77X
1 1/2 Inch
38.1 mm
0.4843 Inch (77)
0.4843 Inch (77)
Y80X53X
1 1/2 Inch
38.1 mm
0.5 Inch (80)
0.185 Inch (53)
Y80X54X
1 1/2 Inch
38.1 mm
0.5 Inch (80)
0.2407 Inch (54)
Y80X55X
1 1/2 Inch
38.1 mm
0.5 Inch (80)
0.25 Inch (55)
Y80X56X
1 1/2 Inch
38.1 mm
0.5 Inch (80)
0.2656 Inch (56)
Y80X57X
1 1/2 Inch
38.1 mm
0.5 Inch (80)
0.2812 Inch (57)
Y80X59X
1 1/2 Inch
38.1 mm
0.5 Inch (80)
0.2968 Inch (59)
Y80X61X
1 1/2 Inch
38.1 mm
0.5 Inch (80)
0.3125 Inch (61)
Y80X62X
1 1/2 Inch
38.1 mm
0.5 Inch (80)
0.3281 Inch (62)
Y80X64X
1 1/2 Inch
38.1 mm
0.5 Inch (80)
0.3437 Inch (64)
Y80X65X
1 1/2 Inch
38.1 mm
0.5 Inch (80)
0.3593 Inch (65)
Y80X67X
1 1/2 Inch
38.1 mm
0.5 Inch (80)
0.375 Inch (67)
Y80X69X
1 1/2 Inch
38.1 mm
0.5 Inch (80)
0.3906 Inch (69)
Y80X70X
1 1/2 Inch
38.1 mm
0.5 Inch (80)
0.4062 Inch (70)
Y80X72X
1 1/2 Inch
38.1 mm
0.5 Inch (80)
0.4218 Inch (72)
Y80X73X
1 1/2 Inch
38.1 mm
0.5 Inch (80)
0.4375 Inch (73)
Y80X75X
1 1/2 Inch
38.1 mm
0.5 Inch (80)
0.4531 Inch (75)
Y80X76X
1 1/2 Inch
38.1 mm
0.5 Inch (80)
0.4687 Inch (76)
Y80X77X
1 1/2 Inch
38.1 mm
0.5 Inch (80)
0.4843 Inch (77)
Y80X80X
1 1/2 Inch
38.1 mm
0.5 Inch (80)
0.5 Inch (80)
Y81X53X
1 1/2 Inch
38.1 mm
0.625 Inch (81)
0.185 Inch (53)
Y81X54X
1 1/2 Inch
38.1 mm
0.625 Inch (81)
0.2407 Inch (54)
Y81X55X
1 1/2 Inch
38.1 mm
0.625 Inch (81)
0.25 Inch (55)
Y81X56X
1 1/2 Inch
38.1 mm
0.625 Inch (81)
0.2656 Inch (56)
Y81X57X
1 1/2 Inch
38.1 mm
0.625 Inch (81)
0.2812 Inch (57)
Y81X59X
1 1/2 Inch
38.1 mm
0.625 Inch (81)
0.2968 Inch (59)
Y81X61X
1 1/2 Inch
38.1 mm
0.625 Inch (81)
0.3125 Inch (61)
Y81X62X
1 1/2 Inch
38.1 mm
0.625 Inch (81)
0.3281 Inch (62)
Y81X64X
1 1/2 Inch
38.1 mm
0.625 Inch (81)
0.3437 Inch (64)
Y81X65X
1 1/2 Inch
38.1 mm
0.625 Inch (81)
0.3593 Inch (65)
Request Information